Time To Play - Lego Consoles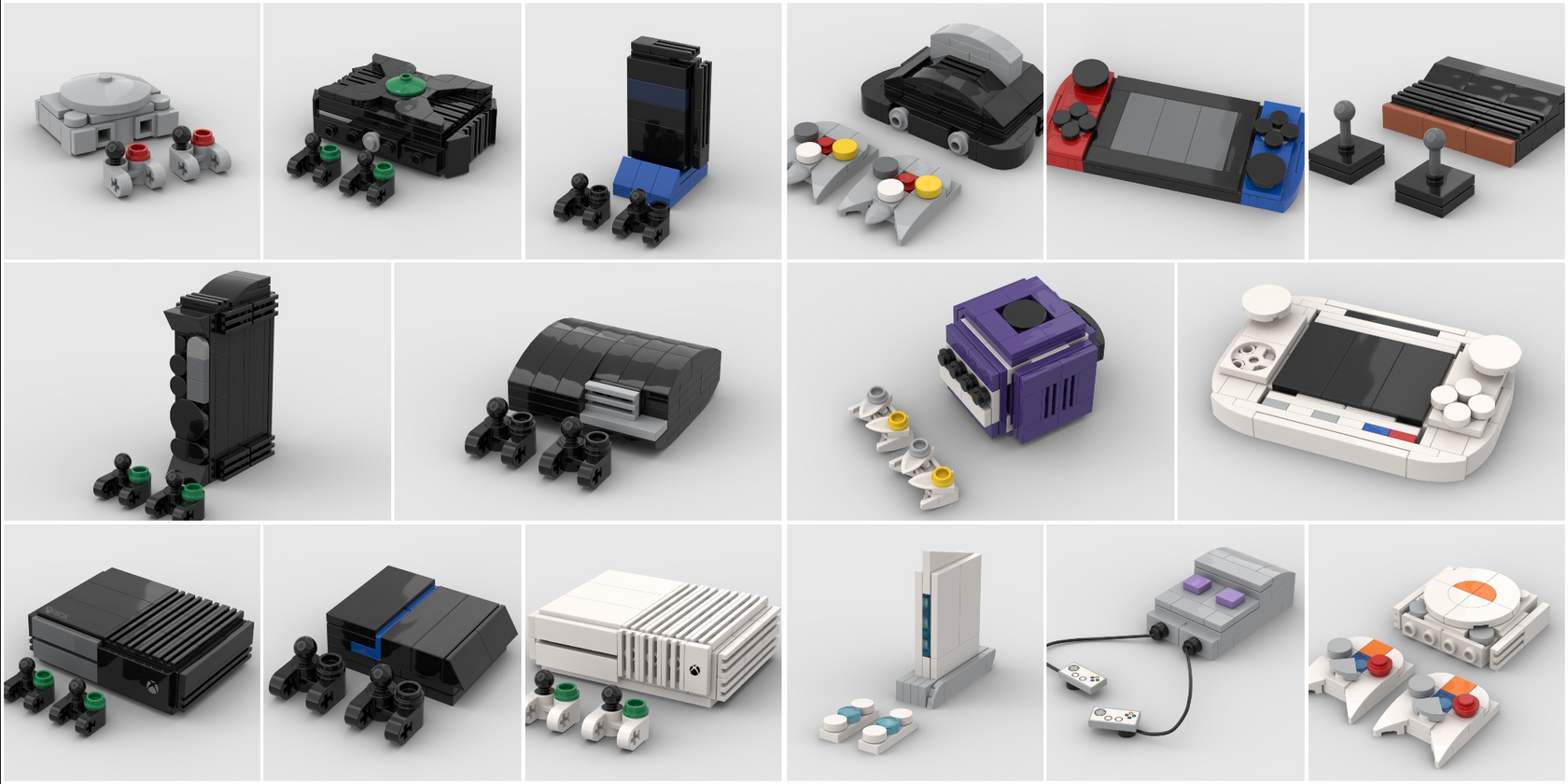 My new project came to an end, in the last few days I've been working on creating models for all the game consoles we all love so much.
You can find very old consoles up to the latest here.
So which console do you like most?
Moc PlayStation 1
Part number: 29
Download instructions here
Moc PlayStation 2
Part number: 38
Download instructions here
Moc PlayStation 3
Part number: 47
Download instructions here
Moc PlayStation 4
Part number: 20
Download instructions here
Moc PSP - PlayStation Portable
Part number: 28
Download instructions here
Moc XBOX
Part number: 87
Download instructions here
Moc XBOX 360
Part number: 51
Download instructions here
Moc XBOX ONE
Part number: 57
Download instructions here
Moc XBOX ONE S
Part number: 65
Download instructions here
Moc Super Nintendo
Part number: 27
Download instructions here
Moc Super Nintendo Entertainment System
Part number: 25
Download instructions here
Moc Nintendo Entertainment System
Part number: 35
Download instructions here
Moc Nintendo Wii
Part number: 27
Download instructions here
Moc Nintendo 64
Part number: 70
Download instructions here
Moc Nintendo GameCube
Part number: 78
Download instructions here
Moc Nintendo DS
Part number: 35
Download instructions here
Moc Nintendo - Game Boy Advance
Part number: 22
Download instructions here
Moc Nintendo Switch
Part number: 56
Download instructions here
Moc Nintendo Wii U
Part number: 68
Download instructions here
Moc Master System II
Part number: 36
Download instructions here
Moc Dreamcast Sega
Part number: 50
Download instructions here
Moc Sega Genesis
Part number: 35
Download instructions here
Moc Atari 2600
Part number: 27
Download instructions here
Moc Atari VCS
Part number: 39
Download instructions here
Moc Atari 5200
Part number: 42
Download instructions here
Moc Atari Lynx
Part number: 77
Download instructions here
Love them all? share it now! :)
Leave A Reply
Your email address will not be published. Required fields are marked *