Lego ZOO MOCs ideas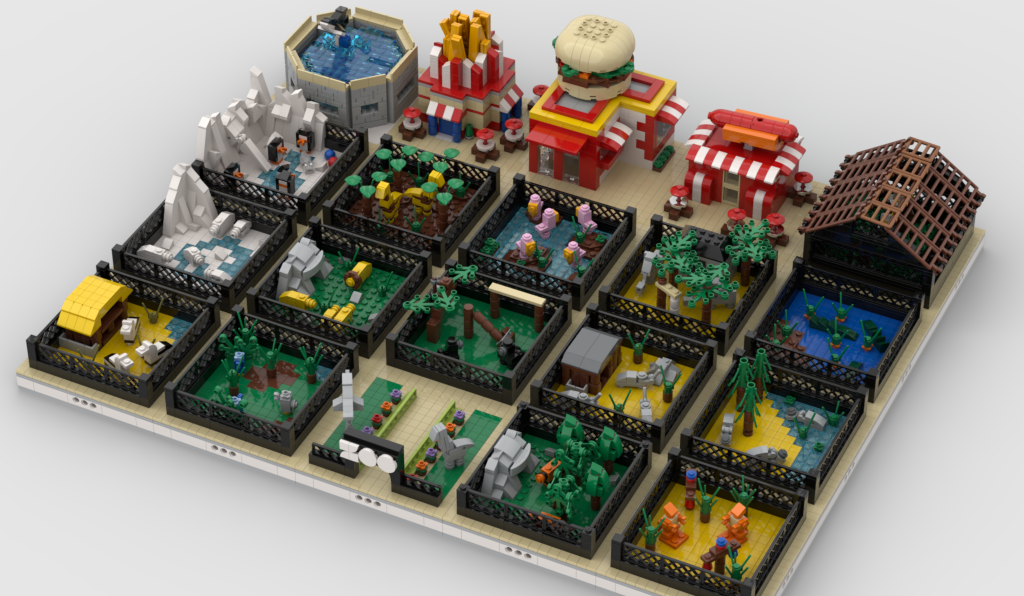 LEGO has been a beloved toy for generations, and one popular theme among LEGO builders is creating their own unique zoological displays. These LEGO MOCs allow builders to let their imaginations run wild and design their dream zoo.
If you're looking for some inspiration for your next LEGO zoo MOC, here are a few ideas to get you started:
Also, here are some more ideas that can inspire you:
Create a Safari Scene: A safari scene is a classic choice for a LEGO zoo MOC. You can include elements like jeeps, tents, and campfires to really set the scene. Don't forget to add in a variety of animals, such as lions, giraffes, and elephants.

Design an Aquatic Exhibit: An aquatic exhibit is a great way to showcase a variety of water-dwelling animals. You can include tanks for dolphins, sea turtles, and even a shark or two. Don't forget to add in some interactive elements, like a touch tank or a diving bell for visitors to explore.

Build a Rainforest Habitat: A rainforest habitat is a great opportunity to get creative with your plant and animal selection. You can include exotic species like poison dart frogs, jaguars, and toucans. Don't forget to include elements like waterfalls and vines to really bring the habitat to life.

Construct a Desert Oasis: A desert oasis is a unique and visually striking setting for a LEGO zoo MOC. You can include animals like camels, snakes, and desert foxes. Be sure to include plenty of water sources, like pools and oases, to keep your desert animals hydrated.

Make a Mountainous Habitat: A mountainous habitat is the perfect setting for animals like mountain goats, bears, and wolves. You can include elements like cliffs, caves, and a ski lift for visitors to explore.
No matter what type of habitat you choose to create, the most important thing is to have fun and let your creativity shine. With a little imagination and some LEGO bricks, you can design and build the zoo of your dreams.
Leave A Reply
Your email address will not be published. Required fields are marked *